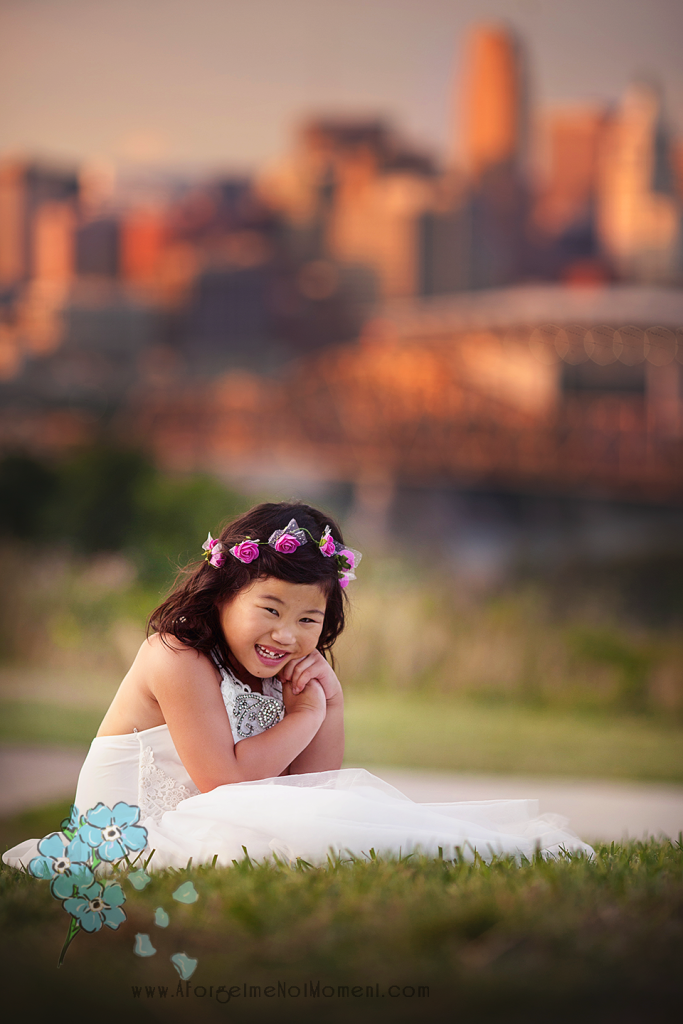 By Vicky D.
Once upon a time, a little girl born on the other side of the world said to me…"You and Me" as she pointed to herself then to me. Now, I knew and felt so much love for her the moment I saw her referral picture. I also knew pretty quickly in China, that my daughter had started to bond and attach to me. Well, it wasn't until that moment, which was nearly a year after coming home, I realized she both loved me AND trusted me…that she understood the meaning of family and love. This is the true miracle and beauty of adoption orchestrated by the loving hand of God-two strangers from different sides of the world would become "You and Me", forever mother and daughter, forever a family. This is our story…
As long as I can remember, I always wanted to be a mom. When I dreamt of my future, I always saw myself loving and raising a house full of kids. As the years went by, I bought my parents house, took fabulous trips around the world, finished two master degrees, and my career blossomed. But the dreams of being a mom started to fade. I watched many of my dear friends and family members marry and start their own families. As I happily celebrated their joys with them, there was a sadness in my heart. Now don't get me wrong, I love my life and was blessed with a wonderful family and friends plus I was blessed to be "Auntie" to my cousins' kids-all of whom are amazing. I have even been honored to be Godmother to a couple of them! But I have to admit, my heart was still aching for a child of my own.
After all, my own mom was the best mom in the world…a woman who loved her girls unconditionally and fiercely. I always wanted to be just like her. As most of us know, life isn't always how you wish it would be. Then I found myself approaching my mid-40's and single. The dreams of being a mom in the traditional way started to feel out of reach. Then one evening after work, I spent some time catching up with a dear friend and colleague, and suddenly the words came out…I want to be a mom and that I was thinking about adoption. I think we may have been talking about future goals related to our jobs, but the one and only goal that felt real at the moment, was that I wanted to be a mom. So, with those words, my adoption journey began.
Now it took a few more months for me to plunge into the whirlwind that is international adoption, but with those words I took a leap of faith and decided to pursue life as a single parent. I didn't know it at the time, but it was the best decision I have ever made.
Over the next year, I did my research on adoption-domestic or international?, what country program?, what agency?, how did other working moms, especially single moms adopt and survive?, "yikes, could I really do this and be enough for any child?"
I did talk to friends who had adopted, including another single mom (of three internationally adopted children). I prayed and prayed about proceeding and sought out the support of my family and friends. I "interviewed" several agencies and consulted with an international adoption pediatrician. I decided on and applied to an agency in December of 2011-All God's Children International or AGCI. Pulling all this information together and saying more prayers, I decided that the China special needs/special focus program was right for me. Of course I was apprehensive about the term "special needs" until I learned what that really meant in the adoption world. I was somewhat relieved that "special needs" in another country were often manageable needs in the US.
So in the summer of 2012,I started working on the medical conditions adoption forms to determine what conditions I was open to. CP or Cerebral Palsy was a condition I was very familiar with. As a neonatal nurse for over 20 years, I was well aware of the medical aspects of CP and the ongoing care and management families and children faced for years to come. I understood that CP was the result of irreversible brain damage and that often it is years before a family knew exactly how the damage impacted their child. I knew CP is not curable, yet is not fatal or progressive, and that with the right balance of therapy and treatments, a child with CP could thrive, regardless of the severity. I knew the resources to access and the services that were needed. I had trusted friends and colleagues at a top pediatric hospital to consult with and to answer any of my questions. I also had good people surrounding me to be my honest sounding board to help support me during my decision making process. Because of all this background and support, I felt very well-prepared and comfortable with adopting a child with mild to moderate CP.
So fast forward a few months and several approvals later…in mid to late November, a sweet little face of this cute little girl caught my eye on the waiting child list. Then December 5, 2012, I said "yes" to a seemingly feisty and beautiful little girl with right sided hemiplegia. This meant her muscle control and strength on the right side of her body was impacted. I also learned that she was abandoned at an estimated 6 months of age, very tiny for her age and had grieved heavily when she was first at the orphanage. This told me she was loved and loved back, because of the sadness she felt at such a young age. As time went on, she began to trust her caregivers, ate well, built attachments to her nannies, grew in height and weight, and tended to cause a ruckus until she got what the attention she wanted or she didn't get what she wanted. My girl was a strong, fierce survivor. From her records, she was able to walk and say a few words, had ongoing weakness in her right arm/hand and leg, and ate and slept well. I was lucky to receive videos of her, she indeed was mobile, but dragged her leg, and there was little movement of her right arm/hand. Yet in her eyes and in her smile, I could see her funny, feisty personality.
On June 17, 2013, I met a scared and sullen little girl in a hot civil affairs office in Nanjing, Jiangsu, China. Along with my sister and now super A'Yi, we welcomed Mila Rose Huimin deCastro into our family and hearts. But "Min Min" as she was called by the orphanage nannies and staff-the only people she has known for two years-was so sad and so uncertain about what was happening. She took the cookies we offered and went through the motions, then reluctantly left with two strangers and one sweet lady (our guide Melody) who could actually speak to her. It took a few hours and discovery of some toys that finally made her smile back and hold eye contact with me…but it was the beginning of a beautiful journey, when an orphan from Jiangsu province became a daughter, a niece, a granddaughter, a cousin, and a little girl soon to call Kentucky her home, so loved and so celebrated.
Three years later, Mila Rose (and she will correct anyone who calls her anything but Mila or Mila Rose) continues to be funny and feisty. She is also stubborn, tenacious, strong-willed, quirky, goofy, loving, energetic, and dramatic. This girl has accomplished so much in three years…learned a new language, learned to walk, talk, use her hands and arms all differently, endured "yucky" injections to help her muscles move better, learned adaptive skills to accomplish daily activities, "graduated" from pre-K to Kindergarten, learned to take the bus, learned to swim, ski, tap dance, and ballet dance, learned to be a daughter and friend, learned to love and trust…just to name a few things. She has also taught me to love beyond what I ever thought was possible, to be a mom first and foremost, to work less and to be present in life more, to always say yes to "one more hug and one more kiss each morning", and to witness what real courage it takes to open up your heart to love and trust another person.
Three years of our story unfolded…and so much more to come. I can't wait!