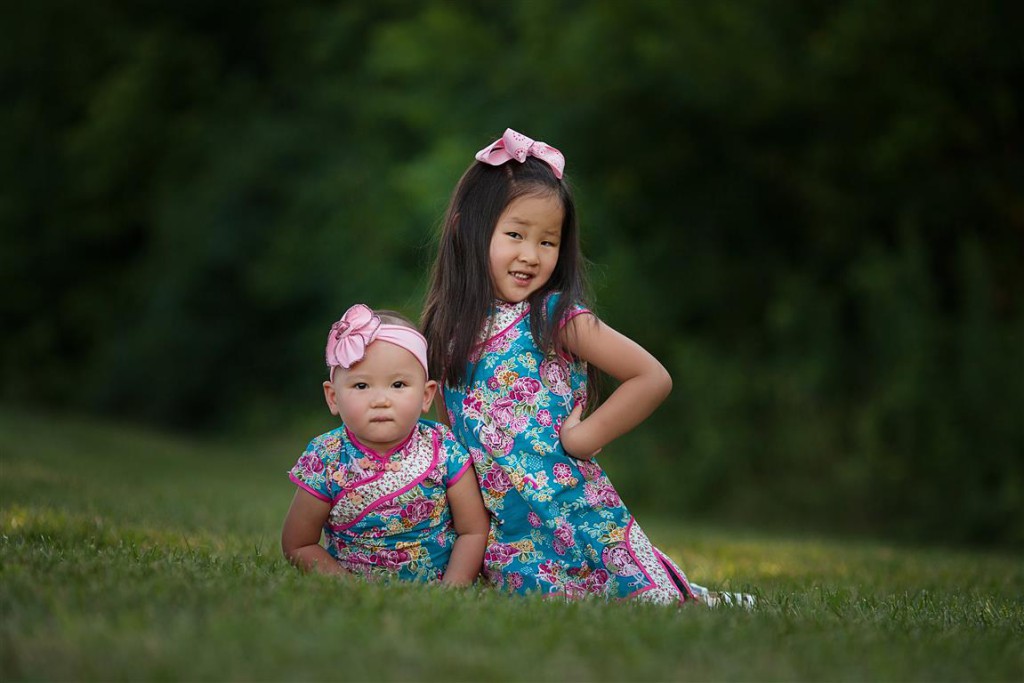 Sometimes our greatest blessings in life come from the biggest leaps of faith.  As a 35 year old single woman, I had felt God calling me toward adoption for some time.  But I drug my feet.  I had a comfortable, "predictable" life, and the idea of becoming a single mother was scary.  Becoming a single mother to a child with unknown special needs was even scarier.  I prayed about it and researched my options, but I wasn't ready to make any commitments.
In January 2013, I woke up in the middle of the night with a feeling so strong from God that it was time to take action.  The next day, I submitted my application to adopt.  For months, I met with my social worker and worked on gathering the appropriate documents.  All while praying that, when the time was right, God would reveal to me the child I was supposed to pursue.  And on October 1, 2013, I saw her face for the first time.  I knew from the second I saw her picture that this was the child I had been praying for.
The next 6 months seemed to drag on forever as I finished preparations to bring her home.  And on March 23, 2014, A….. G….. Chunyi was placed in my arms to begin her forever life with me.  She was quiet, calm, and stoic the day we met.  But as our days together continued, her personality began to emerge, and it was evident that I had been entrusted with a spunky, spirited, determined, firecracker of a little girl!  My "new mom" skills were put to quite the test as I tried to navigate the seas of toddlerhood with a child who often seemed to be smarter than me!  And a child who had more energy than should be humanly possible!
Her and I eventually settled into a nice routine with our little duo.  She was figuring out what it meant to have a family, and I was figuring out how to manage life as a single mom.  But once she had been home for about a year, I started to get the feeling that I was supposed to adopt another child.  I put my brakes on again and wrestled with God.  Surely He couldn't be calling me to take another leap of faith and add another child to my family.  I was just figuring out how to make it with one!  And the one I had was a dynamo!  But the feeling persisted, and my conversations with God always left me thinking about the possibility of adopting again.  I prayed about this for another 6 months, and when AG had been home for about 18 months, I started the process to bring home a little sister.
Right before Christmas (2015), my social worker sent me some possible files to review.  There was one little face that grabbed me.  Her special need was not something that I was readily considering.  In fact, it was on my list of "I would need to seriously pray about this."  As I was praying about moving forward to pursue this child, God connected me with several people who had met her on trips to China, and I felt like their words to me were like whispers from God that I needed to cast my fears aside and take this leap of faith to bring her home.  Despite the unknowns about her future and development.  Despite my deepest fears.  He told me to trust Him.  Several days after Christmas, I was officially matched with E…. H…., and she became part of our family on June 6, 2016.
E's transition into our family was nothing short of traumatic.  She had been well loved at a foster center, and it was heart wrenching to hear her cries as she was taken from her nannies and placed (arching and screaming) into my arms.  During our two weeks in China, E completely rejected me.  If I so much as looked at her, it would often trigger intense crying.  She was scared, depressed, and broken.  As her new mama, I just wanted to hold her and love her and help her realize that everything was going to be okay.  But I was the last person she wanted to receive comfort from.  So I had to sit by and watch as my mother (bless her extreme heart!) took on all the care giving duties for my new daughter.
Once we returned to the US and started getting settled into our new lives, things slowly improved.  E began allowing me to hold her and care for her, and we started seeing occasional smiles.  We have now been home for 10 weeks, and the broken little girl we met in China is now a (mostly) happy little girl who ADORES her big sister.  She is still very quiet and serious, but she is also observant and sensitive.  People who meet her often comment that she seems like an "old soul" inside her little body.  The past 12 weeks have probably been the hardest 12 weeks of my life.  But the hardship and heartache is worth it to see the life of my daughter being redeemed.  She is blossoming with the love and stability of a family.
When God called me to take the leap of faith to adopt, I'm so thankful that I didn't let fear keep my feet firmly rooted to the ground.  Because if I hadn't jumped when He said "go", I would've missed the two greatest blessings in my life!