A Forget Me not Moment and LuluBees Closet Couture are proud to announce our 2021 shoot out schedule!
Join with a group of fellow creatives to photograph some beautiful models in gorgeous gowns at amazing locations! Build networking, make friends, update your portfolio and most of all just have a great time!

All skill levels are welcome. You photograph what you want in the way you work best. This isn't an educational workshop, but rather a chance for you to take advantage of utilizing the best of the best from our rental closet all in one stop at a fraction of the cost. We will have stylized models ranging in age from 2-14. All models will be wearing gowns from the vast selection at LuluBee's closet along with professional hair styling. Gowns will be specially selected to coordinate with the setting and timing of each shoot-out location. Check out the amazing things we have planned this year!

September 25th – Augusta, GA. -Booking is now live

You fell in love with this place on our last live video so we decided to open it up for our very first shootout location. This church has it all; massive frosted glass windows with the most amazing natural light, rustic wooden flooring, peeled painted walls, gorgeous stained glass and more. We'll spend 2 hours in the church and then go out and enjoy a nice lunch together where you'll have the opportunity for networking and great conversation. We'll take a little break after lunch and by late afternoon we'll be back to shooting in the quaint downtown area of the Central Savannah River area. With rustic buildings, greenery, antebellum architecture, and even a bit of urban flair we'll have new models and new gowns so you'll be able to come away with an entire portfolio full of different looks showcasing your talent as a photographer.

-Cost is $450 and includes morning snacks, transportation during the hours of the shoot out, a swag bag of goodies and a certificate for ½ off your next rental from LuluBee's Closet. You will also be given the opportunity to take home one of the rental gowns from the shootout at a discount and be given a coupon toward your next lullabies rental.

-Limited to 10 photographers

October 9th – Blue Ridge Parkway, NC –
   There are not many places more beautiful in the fall the Blue Ridge mountains of North Carolina. Come join us for a weekend escape to photograph some of our most gorgeous fall gowns. We will provide 5-7 stylized child models with couture wardrobe, props and professional hair styling. After a couple of hours of shooting we'll get together for a relaxed dinner where you'll have the opportunity to network and relax.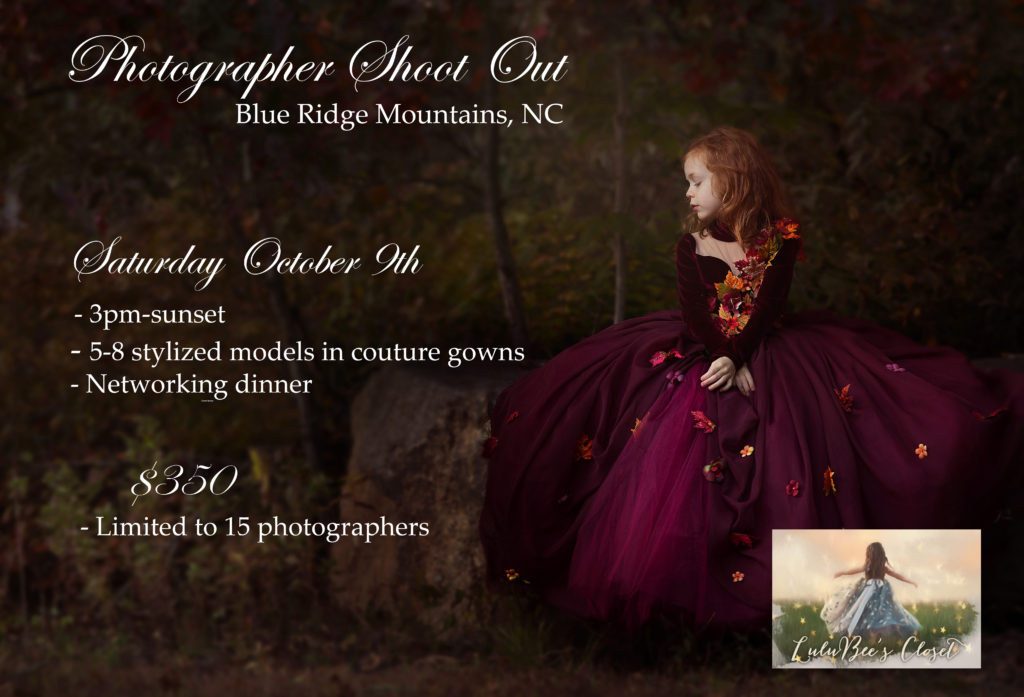 -Cost $350 and includes refreshments during the shootout, a swag bag of goodies, the opportunity to take home one of the rental gowns from the shoot out at a discounted rate (valued at $150-$300) and a coupon toward your next rental from Lulubee's Closet (up to $100 value).

-Limited to 15 photographers

December 4th – Savannah, GA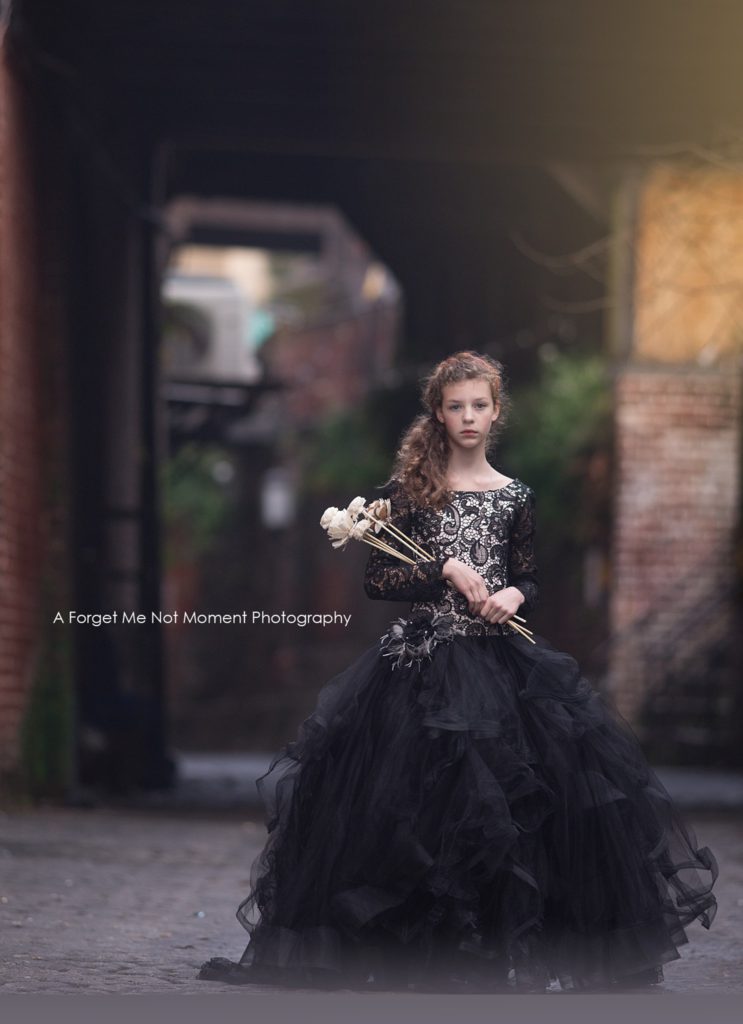 From the beautiful river- front, cobblestone streets, narrow alleyways, ivy covered architecture, ornate iron gates, live oak pathways and gorgeous fountains, Savannah is a photographer's paradise. In December the city is decorated with beautiful lights and holiday decor, making it even more beautiful. This shoot out will take place in and around the amazing downtown area and as you travel in between our models you'll get a little taste of why Savannah is the postcard for antebellum character and beauty. We will provide 5-7 stylized models with professional hairstyle, couture wardrobe and props. We'll start together at one location and then spread out toward the historic squares and end at Forsyth park where the live oaks frame the walkway and….